We offer a very extensive range of services for marine vessels. We specialise in a wide range of marine interior services using a wide range of quality products. We can work offsite or onsite.
We use the correct products for the job. Marine products have to have high UV resistance, mold resisting qualities and also be rugged and durable enough to stand up to the salty environment.
What sets us apart from our competition is that our products are not off the shelf and are manufactured by us in our workshop, which allows us to work closely with you to deliver to your requirements. We keep you engaged in the project from start to finish.
When the job is complete you know what you are going to get and you know that it is going to be what you want.
Boat canopies.
Storage covers.
Road covers.
Cockpit covers.
Storage boots.
Radar arch canopies and 'sport' canopies.
Fully enclosed 'weekender' canopies that cover the entire cockpit.
Fold down or fixed position soft tops/sport tops.
Clears, zip down, roll up, fold away or removable.
Sport tops, walk through canopies and much more.
Fenders for use on marina berths (fixed or unfixed).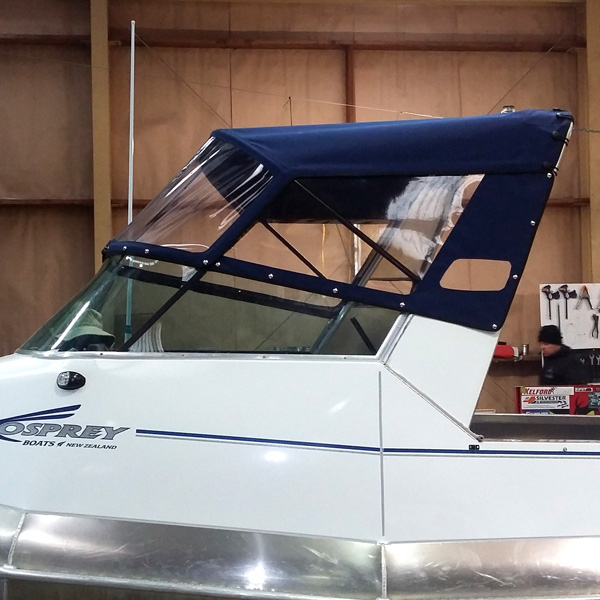 We specify that Mortimer's complete all our forestry cabin's lining and upholstery due to the quality of the fit and the aesthetics of the finished product. Their high standards are in line with our own expectations, and we recommend Mortimer Auto Upholstery to any prospective client.
We had been considering a cover for our new boat for a while now and after looking around and talking to other boat owners decided that Mortimer's would be the best choice. We weren't disappointed, after talking with Caleb about what I wanted and looking at the options available the job was quoted and the new canopy with full clears and zip front window was installed in just two days (no lost fishing time) Initially I was concerned with losing a bit of fishing room with the canopy but the benefit of having all weather protection far out ways the small amount room we have lost.
I would not hesitate in recommending Mortimer's to anyone considering a canopy for their boat or any other upholstery work.
To Whom It May Concern,
Based on a recommendation from a previous client of Mortimer Upholstery and Marine Covers, I recently asked Caleb to make some modifications to a KTM motorcycle seat. To make the seat more suitable for someone of tall stature I asked Caleb to add a definite butt stop for the rider, to move the stop back an inch and to level out the rider seat. The original riders seat position was cramped and rolled the rider forward. The changes Caleb has made have transformed the seat and so too the enjoyment of riding the bike. Caleb listened to the changes that were needed, suggested additional changes and ways of improving the finished look of the seat by using two different types of covering and adding orange stitching highlights (orange being a KTM colour). The finished seat has a very high standard of workmanship and works a treat. I am very happy to recommend Caleb without reservation as the go to place for custom upholstery work . Thanks Caleb for the great job.